How To Quickly Get A 3 Letter Gamertag On Xbox Live
Tutorial Name: How To Quickly Get A 3 Letter Gamertag On Xbox Live
Category: Xbox 360 Achievements and Guides
Submitted By: Dean
Date Added: Thu. Jan 20, 2011
Views: 7,625
Share:
Facebook
Twitter
Digg
Tumblr
Myspace
Del.icio.us
Reddit
This is a quick walkthrough on how to get a 3 letter gamertag quickly on xbl
1. Visit CheckGamertag.com
2. Remember, gamertags must start with a letter
3. Enter a 3 letter/number gamertag (Check Gamertag will quickly tell you if the gamertag is available or taken)
4. If you find one you like and it's available then do NOT hesitate to get it
5. Good luck and have fun!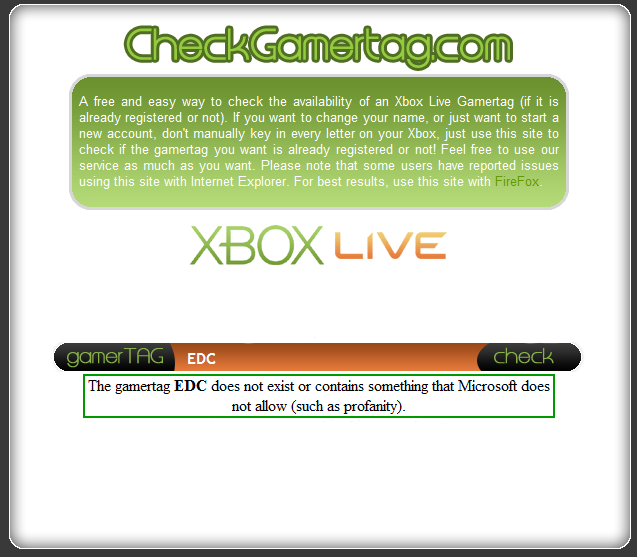 Dean '-'
Ratings
Current rating: 3.04 by 86 users
Please take one second and rate this tutorial...
| | | | | | | | | | | | |
| --- | --- | --- | --- | --- | --- | --- | --- | --- | --- | --- | --- |
| Not a Chance | 1 | 2 | 3 | 4 | 5 | 6 | 7 | 8 | 9 | 10 | Absolutely |